The YEL and Referees Association announce an historic partnership
.

'Support for YEL referees in the East Midlands just got a whole lot better!'
.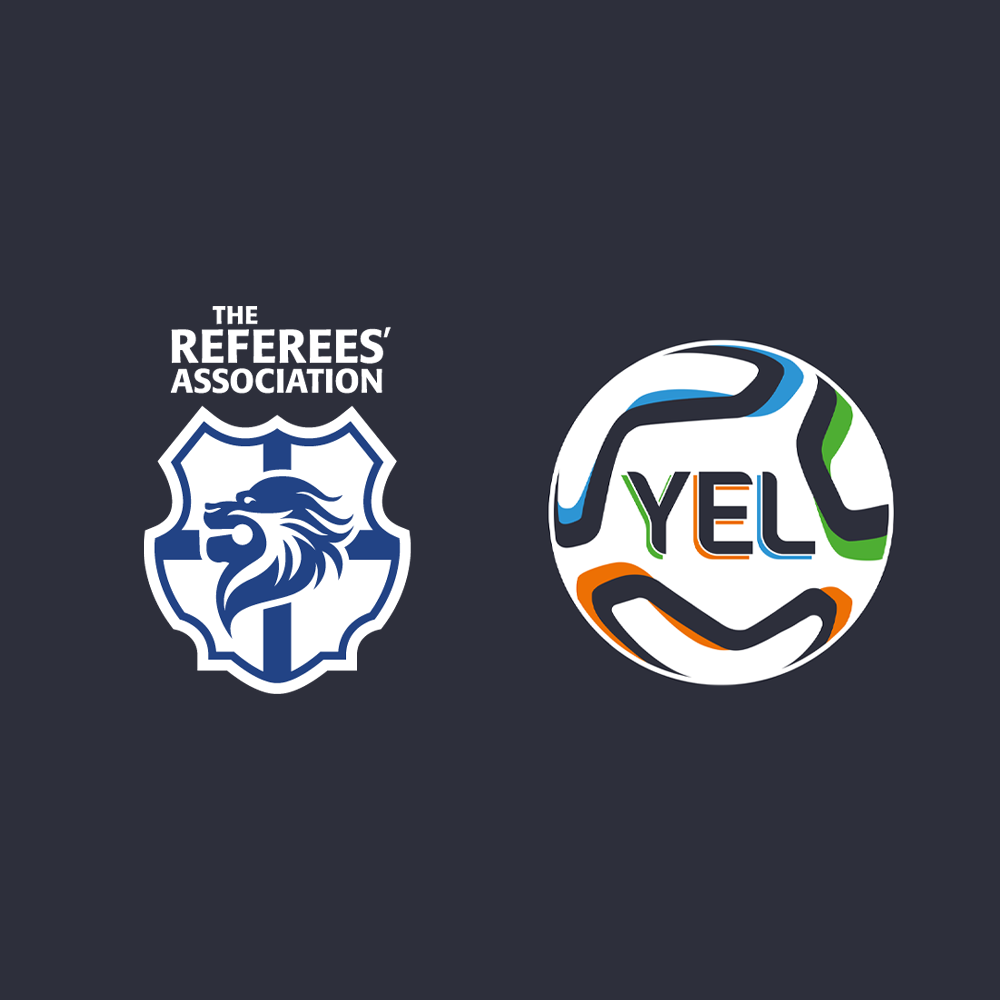 .
---
The YEL have teamed up with The Referees' Association in a ground breaking partnership which will see all of 350 match officials given the opportunity to become members of The RA with immediate effect.
'The YEL will become the first league in the country to become a member of The RA'
Rob Harwood, CEO of YEL, said:

'This is an exciting and very proud day for the YEL as we launch this ground breaking YEL/Referees' Association partnership. The RA will bring a wealth of experience, support, encouragement and development to all of our referees, young and old alike, which will hopefully enhance their experience and encourage them to further their refereeing career.'
Paul Field, Chair of The RA, said:

'We are delighted to have created this ground-breaking partnership with The Young Elizabethan League. As the first of its kind in our proud 113 year history, it will see all referees from the league become have the opportunity to be members of The Referees' Association. This will not only improve The YEL refereeing workforce, but also provide all match officials with expert training, development and welfare support.'

ON THE WHISTLE!
---
Refereeing is a hugely important part of our game, and a skilled referee can make a major difference to the flow and fairness of a match. It is also extremely rewarding and the YEL invests heavily in supporting and encouraging the next generation of great referees…
How to become a referee and what sort of person you need to be
.

'Refereeing develops key life skills such as communication, decision making, confidence…and it also provides extra weekend spending money!'
.
.
---
Referees come in all shapes and sizes however they all have a common desire to create the right, even handed environment for youngsters to enjoy a game of football.
On reaching their 14th birthday, boys and girls can take a County FA Referee course. There's no upper age limit on candidates. Whilst most referees are likely to be still playing football (or have played in the past), this is not a necessity as full training is given on the laws of the game. Once the course has been completed, candidates should be able to referee their first games (usually mini soccer).
Courses for new referees are constantly being run throughout the season. Details can be found on your local County FA website.
There's no specific criteria which defines a referee. Provided you're a fair, even minded person prepared to give it your best, you will be fine. Having a positive attitude and earning the respect of the players, parents and coaches right from the start will help – How you respond to initial emails/texts; What time you arrive at the ground; How you introduce yourself; What your appearance says about you; How you use your whistle; How you engage with the players and coaches during the game; How enthusiastic you are. All of these are really important considerations. If you tick all of these boxes, you will have a great time and find refereeing very rewarding. If you don't…. well always remember that football can be a very passionate game!
.
Local referee appointed to National Youth Referee Development Team
'Two things you are in control of in your life – your attitude and your effort'
Local referee, Hannah Gardner, has been appointed to a national refereeing body to help the development of young referees up and down the country.
Andy Smith, YEL Referee Liaison commented on the news of Hannah's appointment, 'We are absolutely delighted to get the news that our very own Hannah Gardner, YEL Referee, has been appointed to the National Youth Referee Development Team. Her enthusiasm that she shows week in, week out and her desire to share first hand her experiences will be a massive asset to the NYRDT'
The NYRDT is a body which listens to and takes the views of, a wide age range of referees to ensure that the future of refereeing is fashioned around the needs of those who need it the most – The young referees!
.
'Good decisions come from experience. Experience comes from making bad decisions'
.
What does Hannah's appointment mean to the YEL?
Rob Harwood, CEO of the league, commented, 'Having seen Hannah develop as a young referee over the last few years, it is no surprise she has been selected to join the National Youth Referee Development Team. It is a tremendous achievement and a notable accolade for the league. It also helps shine a light on the tremendous work Andy Smith does behind the scenes assisting young referees in gaining the confidence to develop themselves into stars of the future. We are very proud of Hannah – another success story from the YEL team!'
---
So just who is Hannah Gardner and how did she get to become a role model for young referees joining the YEL. We caught up with her and asked her a few questions to get an insight into this young rising star.
YEL: When did you start refereeing?
Hannah: I started refereeing when I was 14
YEL: Whereabouts in the area do you live?
Hannah: I live in Southwell, Nottinghamshire
YEL: What made you want to get into refereeing?
Hannah: I started out refereeing my younger brother's team when they didn't get appointed a ref as my dad was the manager, from there I took a real interest into refereeing and when I turned 14 I booked myself onto a referees course to be able to do it officially.
YEL: What Leagues do you referee in?
Hannah: YEL, NSL – I have been fortunate enough to be selected to be part of the match official team on a couple of occasions throughout my refereeing career for the FA girls England Talent Pathway League, EMWFL & FA Women's National League
YEL: What is your mentor role with Notts FA – how long have you been doing it?
Hannah: I did a course on mentoring with Notts FA, done it for around 1 year officially
YEL: Which team (if any) do you/did you play for?
Hannah: I played for Southwell City Ladies (not anymore)
YEL: What position do/did you play?
Hannah: I played centre back
YEL: Which referee inspires you?
Hannah: Rebecca Welch / Sian Massey
YEL: What makes you feel good on the pitch?
Hannah: When the players around you are enjoying the game and the atmosphere around the pitch is positive. 'If you don't notice me, I must have done a good job'
YEL: Where do you want to get to in the game?
Hannah: I would love to be able to officiate in the WSL
YEL: What causes you disappointment on the pitch?
Hannah: When there is an overall negative feel to the game, whether that be in abuse to a referee or just small comments to players, football is a game for us all to enjoy and if that isn't the overall outcome that can be disappointing
YEL: What made you want to join the National Youth Referee Development Programme?
Hannah: I wanted to join the NYRDT programme to give something back for all the help and support received up to now, and also help others progress within the refereeing family
YEL: What is your best/proudest moment so far as a referee?
Hannah: Best moment/ proudest achievement in refereeing was getting appointed to an U16's women's international game for the first time based at Bisham Abbey. England vs Ireland
YEL: What is your worst moment in football?
Hannah: Worst moment in football was getting injured whilst playing a senior game last year, and consequently missing a lot of the season due to my injury, I damaged the lateral ligaments in my ankle due to a challenge in which the player received a red card.
Use YEL MATCH-UP to find a referee for your game at short notice. This invaluable live system tool is only accessible via Scoreline to authorised YEL members.
YEL REFEREES SUPPORT CENTRE
Highlights of other rules (not exhaustive) – If in doubt, refer to the full rules and regulations on YELonline.com
Half time: Normally 10 minutes but can be up to 15 minutes. The half time interval can only be changed with the consent of the referee.
Length of the halves: As above. Shorter durations must be mutually agreed by the two clubs in consultation with the referee prior to the commencement of the match and, in any event, shall be of equal halves.
Assistant referees: Assistant referee must be over 16 (unless a qualified official)
Scoring a goal direct from a kick off: A goal cannot be scored directly from a kick-off in a U7s to U10s game
U7s to U10s specific rule: For an offence that would result in either a dropped ball within the penalty area or an indirect free kick within the penalty area under normal laws of the game, the restart of play should take place from the penalty area line, parallel with the goal line, at the nearest point to the offence.
Cup rules: If scores are level at the end of extra time (or normal time in finals if no extra time has been specified by the league prior to the start) the result will be decided by the taking of penalty kicks from the penalty mark. Each team will take 5 penalty kicks. If the result is still tied, then the teams will take additional penalties on a sudden death basis to ascertain the winner of the tie.
Payment of officials: In all rounds up to the semi final, the cost of the officials will be paid by the home teams. In semi finals, each team will pay half of the officials' match fees.
Player ID: A player must not take part in any game if they are not listed on the official WGS team ID sheet or FA Matchday App.
YOU ARE IN CHARGE!
A HELPFUL GUIDE TO HANDLING NEGATIVITY
---
Not everyone agrees with decisions, but the participants are left in no doubt that the referee is in control of what is happening on the field of play. This calm and authoritative manner is vital to ensure that the referee maintains the respect and control during the match.
"REFEREES SHOULD BE CONFIDENT, AND ENJOY IT! THE YEL IS HERE TO SUPPORT YOU"
---
A referee course helps build your confidence, teaches you life skills and how to manage situations on the field which can be related to every day life situations including conflict resolution, decision making and a whole host of other things. Learn how to become a referee.
Andy Smith
YEL Referees Liaison Officer